Scottish Recipe of the Month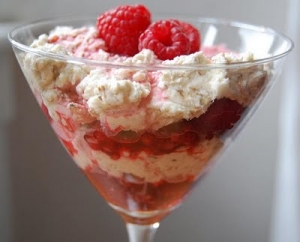 Quick Cranachan Pudding
If you're really pushed for time then this recipe from Orkney saves a lot of the toasting and is simple. You do need to think ahead though, for overnight soaking of the oats.

You will need
2 tablespoons medium oatmeal
2 tablespoons runny honey
2 tablespoons fresh orange or apple juice
300 ml double or whipping cream, or thick yoghurt
110 g raspberries, or mixed fruit, eg banana, stewed apple, plus a few raspberries
The day before; soak the oatmeal in the honey and fruit juice in a covered dish.
Whip the cream until stiff and fold in your chosen fruit to the oats. Chill in the fridge for a short while, or serve semi-frozen
"Recipe from a book by Margaret Briggs, called Porridge, Oats and their many health benefits"