The Scottish Shop - the place to find the perfect gift
For over 2 decades The Scottish Shop Dunedin has been known as a treasure trove of time-honoured Scottish classics and quality gift ware. We also stock a range of Irish and Welsh products and gifts.
Our experienced staff understand the significance customers place on finding just the right gift, tartan or highland wear and are happy to take the time to assist customers in selecting from the extensive range of tartans, kilts and quality fabrics in store. We are able to source additional items from select suppliers in Scotland to cater to all of your needs.
Kaye Foster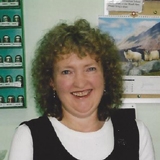 Having worked at The Scottish Shop since November 2000, Kaye was a customer long before that. She has always had a love of Scotland and all things Scottish, passed on to her by her Scottish grandmother. Kaye's ancestors were among the first settlers to arrive in Dunedin on the Phillip Laing and so her family has a strong sense of identity in Dunedin.
Kaye says "Dunedin is a beautiful city and I love to share this with the many visitors to the shop. Not all visitors to the store are here to buy product – some just like to soak up the atmosphere and share their lives with us".
Kaye enjoys researching her family history and takes great pride in helping others to gain knowledge of their genealogy. With family still in Scotland, Kaye has visited there and hopes to do so again. "I gain great satisfaction from being able to source information and products for my customers".