The Scottish Shop - For tartans, wool scarves, ties, kilts, Heraldry, Celtic jewellery, Ghillie Brogues, sporrans, Kilt hire, Sgian Dubh and specialty foods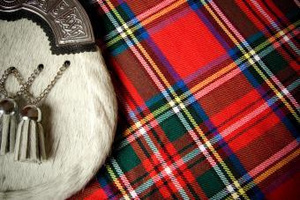 Located in the heart of Dunedin City; the Scottish Shop is a true gem, offering a tantalising variety of genuine Scottish items, including tartan ties, scarves & kilts, as well as rugs, jewellery and highland accessories. We also stock heraldic items, gifts for everyone, ornaments and Scottish delicacies - proudly reflecting Dunedin's Scottish heritage.
Tartans
Step into the world of highly prized traditional woven tartan fabric direct from Scottish Mills. Over 500 Scottish Clan tartan fabrics available to order. Or find your tartan in a ties, scarf, bow tie, county cap, tam o'shanter or shawl, we even stock a limited variety of tartan brushed wool throws and rugs. You will love the feel and comfort of a traditional tartan scarf or rug keeping you warm on a cold winter's day.
We are also the sole distributors of the Pride of New Zealand tartan.
Kilts & accessories
We offer made-to-measure men's kilts in the finest quality tartan fabric, as well as ready-made or made-to-measure ladies kilted skirts and children's kilts. To complete your traditional outfit we can supply ghillie brogues, ghillie shirts, sgian dubhs, kilt belts & buckles, kilt hose, head gear and sporrans.
Heraldic items
Find an item that genuinely reflects your Scottish or Celtic lineage, including heraldic badges, coats of arms and family crests.
Unique gifts & speciality foods
We have a huge range of authentic Scottish gifts as well as souvenirs; from exquisitely crafted Celtic jewellery to silverware, porcelain mugs, ornaments, and our popular, traditional Christmas decorations. Scottish-made,
jig-saw puzzles
are also a popular gift item, as are flags of all nations. We are happy to help you find that perfect gift. Seekers of traditional fare can find Irn Bru, haggis, Scottish fudge and, of course, a variety of shortbread and jams.
Weddings
We can source various tartan accessories and specialty items to make your Scottish wedding something truly special! From tartan sashes in your Clan tartan to lapel pins, cummerbunds and pocket squares as well as clan glassware and wedding plaques, we have fabulous ideas to add that magical Scottish touch to your wedding day. Contact us on
shop@scottishshop.co.nz
to find out what we can help with.