Scotland to NZ via East Africa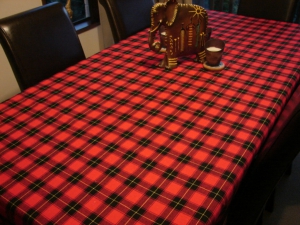 In January 2006 I visited Glasgow for the annual Gift Fair and was full of enthusiasm about tartans and yes, all things Scottish. When you live on the 'other side of the world' it is sometimes difficult to stay focused on owning a traditional Scottish Shop. New Zealand is such a long way from my suppliers this is a fact that my customers have trouble understanding, especially when certain stock levels are getting low. I find the Gift Fairs extremely motivating and I can go home full of new ideas and new products.

On my journey home from Scotland I had my dream holiday which was a visit to Kenya and Tanzania. I was in several Maasai villages in 2006 and was stunned to see tartan like clothing and many of the warriors even wear them in the Scottish style of a breacan feile. Sometimes it is simply a blanket thrown around the shoulders. On several occasions I got involved in discussions with Maasai tribesmen trying to discover where the patterns came from but really I never found anyone that actually knew. They were always telling me that "other families make them."

I found a shuka that was so similar to a Wallace tartan that I just had to buy it! There was lots of bargaining for the purchase and I never quite got over the feeling that I had paid far too much for it. But then, that is the way of life in Africa. This blanket now has pride of place as a cover on my dining table and many a time I have had a visitor telling me that I am taking the Scottish theme too far! Not at all, I can say, it is actually a Maasi blanket.